We will help you take your business to the next level !
Welcome to EnigmaTool UK – For Professional Automotive Equipment
EnigmaTool UK have been in the car electronics industry for more than 18 years. Using our expertise and experience we can help you take your business to the next level. We are committed to providing our customers with the best products on the market, as well as excellent technical support. Our primary goals are outlined below:- To produce high quality goods that are useful, powerful and advanced. To provide a professional, excellent and rapid service for all of our customers. To drive the industry and market forward with competitive pricing, top services and innovation. With our support and knowledge we will help you take your business to the next level.
REASONS TO BUY
EnigmaTool UK work on actual jobs and have fully trained experienced staff who can give you top class support.
We run an actual business so you will always have somebody to speak to if you have a problem.
Updates are affordable and prices realistically.
Original Products Directly From The Manufacturer
Great Prices
We Stay In Touch Bringing You The Latest Products
We Have Been Established For More Than 18 Years
EVEN 2017 CARS BY OBD2 – ENIGMA COVERS a MASSIVE AMOUNT OF NEWEST TYPE BY OBD2. EVEN EEPROM LESS TYPES.
FREE PROGRAMS – UNCOUNTABLE AMOUNT OF TOTALLY FREE PROGRAMS. FOR CARS, BIKES, QUADS.. NOBODY CAN BEAT US!
RELIABLE SOFTWARE – THAT MAKES SURE YOU STAY CALM WHILE WORKING WITH EXPENSIVE CARS OR MODULES
OVER 2000 PDF MANUALS – HIGH QUALITY WITH USER FRIENDLY CONNECTIONS TO MAKE YOUR JOB QUICK AND EASY
POWERFUL IN-BUILT PROGRAMMER – SAFE PROGRAMMING WITHOUT DESOLDERING. NO ENCRYPTION – YOU GET CLEAN BINARY FILES
EASY FOR BEGINNERS – SERIOUS PROGRAMMING OPTIONS EVEN IN A BEGINNERS HANDS
Enigma Tool

ENIGMA is a portable tester that can be used for mileage correction, diagnosis and repair of electronic systems in automobiles.Highest quality made in the EU.
Learn More about the EnigmaTool
Vag Can Pro

VAG CAN PROFESSIONAL (VCP) is a USB interface. Designed for programming and performing diagnostics of electronic components in V models manufactured up to 2014.
Learn More about the VCP
Autohex BMW

Autohex the perfect tool for coding and programming BMW cars. Very powerful with advanced coding options. Key programming even with lost keys.
Learn More about Autohex
Martech
Complete solution for decoding and unlocking car radios and navigation systems. Either Direct by serial or eeprom connections.
Learn More about the Martech
Kess V2

KESSv2 is the technological evolution of Alientech systems, dedicated to the communication via OBD with the Engine Control Unit, available for cars, bikes, and trucks.
Learn More about the Kess V2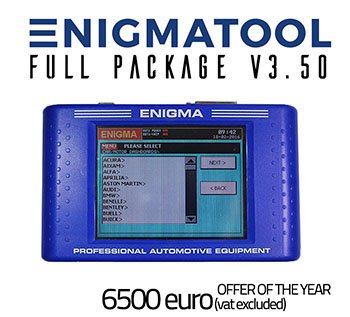 Enigmatool Full Dashboard Package
The most complete solution for instrument cluster programming and repairs.
Only now in special price: 6500 euro (vat excluded)
SOFTWARE VERSION: V3.50
MQBAB 2014-2017 software included
Supported dashboards : 
AUDI

A3 / S3 / Q2

SEAT

ATECA / IBIZA / LEON / TOLEDO

SKODA

FABIA / KODIAQ / OCTAVIA / RAPID / SUPERB

VW

GOLF 7 / PASSAT B8 / POLO / TIGUAN / TOURAN / CRAFTER






Technical Support
Technical support is available for all users who have purchased products from us.
Contact Us