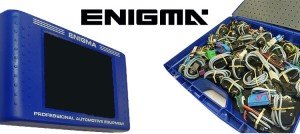 Available to buy with all cables and full warranty.
We can supply in any country and we can quote in  £ GBP,  € EURO, $ US DOLLAR.
Languages available on the Enigma are :

Software package

FULL DASHBOARDS

– BEST SELLER!
(Basic package + VAG Package + BMW Package + Mercedes Package + NEC 78K MCU + Secured 9S12 + All Eeprom and MCU read/write/save/copy/edit)

– software package counters standard:
Now with the FULL USA PACKAGE
Includes the software for changing the km readings, Motorola processor editor for 68HC9(S)12, 68HC908, ST6249, NEC 78k.

– software package BMW E6x Plus:
Software package for changing KM in CAS/CAS2/CAS3/CAS4 module in BMW E6x + BMW 5/6 lifting from 09/2005 (with plastic key) and BMW 7 lifting from 03/2005 (all models via OBD2) 1,3,5,6,7,X3,X5
– software package VAG :
Inlcudes new A3,A4,A5,R8,TT, Golf5,Golf5,New Passat/Polo/Lupo/Bora and all other models by OBD/Eeprom/Dashplug upto 2011.

– software package Mercedes : Includes software for EZS  9S12 secured(4 wires), EZS 908, Dash flashing,ZGW (Central Gateway), OBD , C,E,S,CLK,SLK,M,R,Vito,Sprinter etc
W204, W212
USA Cars by OBD now included !
Also FREE unlimited and not encrypted FULL eeprom and micro feature to read/write/copy/edit and save data.
When you buy a machine we ensure that you get the very latest update available at the time.
We will give you the best possible price, contact us now !